With regime change perhaps imminent in Egypt and elsewhere in the Middle East, and amid all the calls for democracy and political freedom, it's a good time to remind ourselves that desirable as political freedom may be, it's no guarantee of prosperity. For that you need capitalism.
My colleague Alan Stockman and I looked into this question about 10 years ago; I have not updated the data since then but I expect it would still tell pretty much the same story. First, the following graph plots political rights (as defined and measured by Freedom House) against GDP per capita. Low scores indicate more political freedom (defined by criteria that include the existence of free and fair elections, the right to organize, the existence of opposition parties, the absence of domination by the military, religious heirarchies and economic oligarchies, open and transparent government operations, and full political rights for ethnic, religious and cultural minorities, ). There is a small postive relationship between political freedom and prosperity, but many of the freest countries are still poor. And there is very little difference in GDP per person between countries ranked between 2 and 7 on the political freedom scale.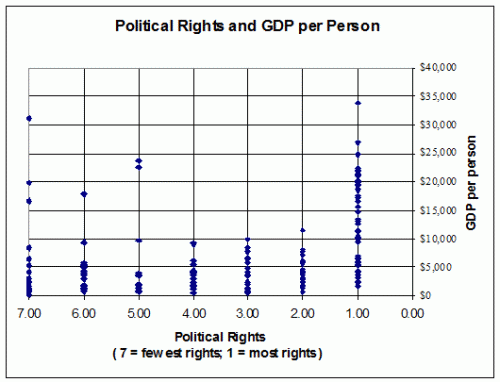 The next graph indicates a somewhat stronger, but still small, positive relationship between civil liberties (again, measured by Freedom House) and per capita GDP. Countries with more civil liberties are richer on average, but the relationship is weak. (The criteria for civil liberties include freedoms of expression, religion and association, the rule of law, the absence of political terror, gender equality, equality of opportunity and the absence of economic exploitation).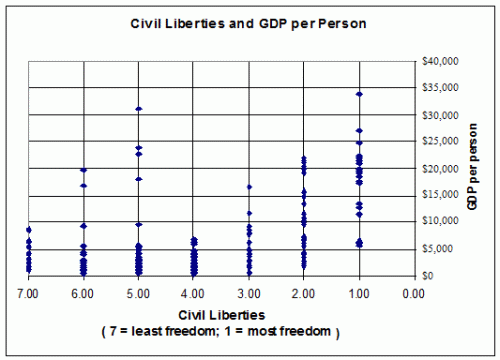 On the other hand, when we plot per capita income against economic (as opposed to political) freedom, the relationship with prosperity is quite strong. The measures of economic freedom come from the Fraser Institute's Economic Freedom of the World project. Criteria include freedom to own foreign currencies and maintain bank accounts abroad, freedom to start businesses and compete, low taxes, low government spending, and equal treatment under the law. The most recent report ranked Hong Kong as the freest country in the world, with an overall rating of 9.05 out of a possible 10; the United States ranked sixth with a score of 7.96. Egypt, at 6.68, ranks 80th out of 141 countries. Here is the graph that Stockman and I constructed from these data ten years ago: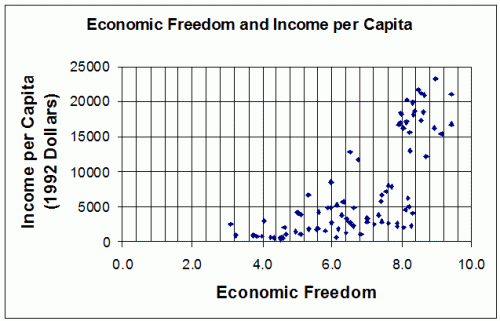 More recently, Horst Feldmann has found a significant negative relationship between various measures of economic freedom on the one hand, and unemployment on the other hand. (His results are contained in Chapter 5 of the most recent Economic Freedom of the World report).
Political freedom and civil liberties are good things. I endorse them. But as far as human happiness goes, capitalism is an even better thing. As we try and nudge the countries of the middle east and elsewhere in better directions, this is important to keep in mind.