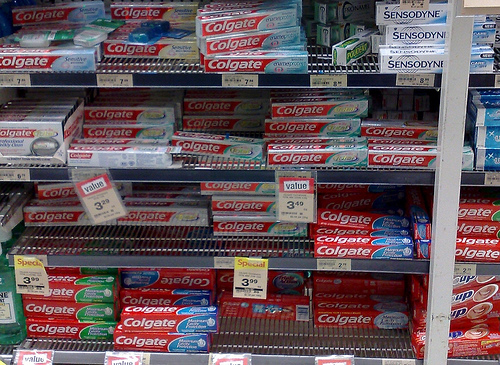 Today's email brings a gripe from Mark Skousen, the irrepressible impresario behind FreedomFest, who could have avoided this problem by being born in the old Soviet Union:
I was in the large Stop & Shop grocery store here in New York to buy some items, including a new tube of toothpaste. I like Colgate, but I can never seem to get the same toothpaste product.

Now I know why. Guess how many different types and sizes of toothpaste Colgate sells?

Ready?

43!

I went through the shelves and counted them, and it's total madness. In addition to the original Colgate "Great Regular Flavor" toothpaste, they have the following versions to choose from:

Colgate Tartar Protection toothpaste
Baking Soda & Peroxide
MaxClean with Whitening
MaxWhite with Mini Bright Strips
MaxFresh with Germ-Fighting Strips
Total Whitening with Stand Up Cap
Total Advanced
Total Advanced Gentle Care
Total Advanced Fresh & Whitening (New!)
Total Advanced Gum Defense
Sensitive Multi-Protection
Sensitive Enamel/Protect
OpticWhite

And in each of the above categories, you get to choose your flavor. There's….

Crystal Mint
Polish Rush
Intense mint
Clean mint
Gel
Paste
Clean mint paste
mint strip paste gel
Gentle mint
Fresh mint
Sparking mint
Cool mild mint

And then many of them come in two or three sizes.

The combinations are so complex that I'm sure they offer even more than 43 choices. (By the way, Crest has the same problem — I counted 41 different types and sizes.)

Guess what? I gave up and bought Colgate "Great Regular Flavor" — the original.
As Mark observers, this poses a bit of a challenge to the economist:
In my econ classes and in my "Economic Logic" textbook, I talk or write about how great capitalism is, and how over time it increases the Quantity, Quality and Variety of goods and services. I call it the Q, Q, and V principle. I follow up with assignments to the students on making lists of new products that have recently developed, or old products that are now obsolete, or assigning students to count how many different kinds of bread there are in a local grocery store or types of beer in a liquor store.

…

[But] now [after shopping for toothpaste] I'm having second doubts when it comes to variety. It's too confusing. I'm starting to think there are too many choices, which can reduce consumer satisfaction.
So: Does this plethora of choices actually benefit consumers? If so, does it create enough benefit to justify the opportunity cost of all the creativity that goes into creating these varieties and flavors? Has the market failed us here, and if so, what exactly is the root cause of that failure? Can we specify the circumstances in which analogous failures either will or will not occur? And if this is indeed a failure, what can be done about it? Or are all cures likely to be worse than the disease?