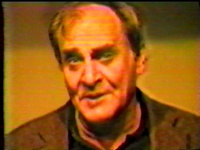 Stanley Tennenbaum was an itinerant mathematician with, for much of his adult life, no fixed address and no permanent source of income. Sometimes he slept on park benches. He didn't have a lot of teeth.
But if you were involved with mathematics in the second half of the twentieth century, sooner or later you were going to cross paths with Stanley, probably near the coffee machine in a math department. He'd proudly show you the little book he carried in his breast pocket, with the list of people to whom he owed money. Then he'd teach you something, or he'd tell you a good story.
Stanley had little tolerance for convention. His one permanent job, at the University of Rochester, came to an abrupt end during a faculty meeting where he spit on the shoes of the University president and walked out. Surely the same personality trait had something to do with his departure from the University of Chicago without a Ph.D., though the paper he wrote there (at age 22) has acquired fame and influence far beyond many of the doctoral theses of his more conventionally successful classmates. I'd like to tell you a little about that paper and what I think it means for the foundations of mathematics.