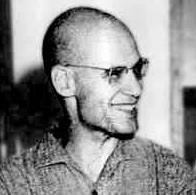 Around 1970, Alexander Grothendieck, the greatest of all modern mathematicians and arguably the greatest mathematician of all time, announced — at the age of 42 — the official end of his research career. Another great mathematician once told me that he thought he knew why. Following two decades of discoveries and insights that, one after the other, stunned the mathematical world, Grothendieck had, for the first time, achieved an insight so unexpected and so consequential that he himself was stunned. Grothendieck had discovered his own mortality.
I am told that just a few hours ago, his vision proved accurate. But the notion of Grothendieck as a mortal seems hard to swallow. He dominated pure mathematics not just through the force of his ideas — ideas that seemed eons ahead of everyone else's — but through the force of his personality. When, around 1960, he announced his audacious plan to solve the notoriously difficult Weil conjectures by first rewriting the foundations of geometry, dozens of superb mathematicians put the rest of their careers on hold to do their parts. The project's final page count, including the twelve volumes known as SGA (Seminaire de Geometrie Algebrique) and the eight known as EGA (Elements de Geometrie Algebrique) approached 10,000 pages. The force and clarity of Grothendieck's unique vision scream forth from nearly every one of those pages, demanding that the reader see the mathematical world in a new and completely original way — a perspective that has proved not just compelling, but unspeakably powerful.
In Grothendieck, modesty would have been ridiculous, and he was never ridiculous. Here, in his own words — words that ring utterly true — is Grothendieck's own assessment of how he stood apart (translated from French by Roy Lisker):
Most mathematicians take refuge within a specific conceptual framework, in a "Universe" which seemingly has been fixed for all time – basically the one they encountered "ready-made" at the time when they did their studies. They may be compared to the heirs of a beautiful and capacious mansion in which all the installations and interior decorating have already been done, with its living-rooms , its kitchens, its studios, its cookery and cutlery, with everything in short, one needs to make or cook whatever one wishes. How this mansion has been constructed, laboriously over generations, and how and why this or that tool has been invented (as opposed to others which were not), why the rooms are disposed in just this fashion and not another – these are the kinds of questions which the heirs don't dream of asking . It's their "Universe", it's been given once and for all! It impresses one by virtue of its greatness, (even though one rarely makes the tour of all the rooms) yet at the same time by its familiarity, and, above all, with its immutability.